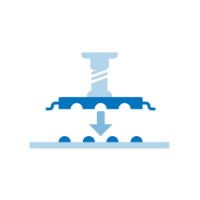 Placement Solutions
Improved Flexibility & Production Quality
Efficient, cost-effective solution that is best suited to your requirements!
Experience unparalleled productivity with JUKI's advanced high-speed and high-accuracy placement machines. Engineered with flexible, refined technology, our placement machines deliver optimal precision and efficiency to meet your specific requirements. Discover a cost-effective solution designed to enhance productivity and deliver superior results.
A JUKI product specialist will be in contact with you within 24-48 hours.