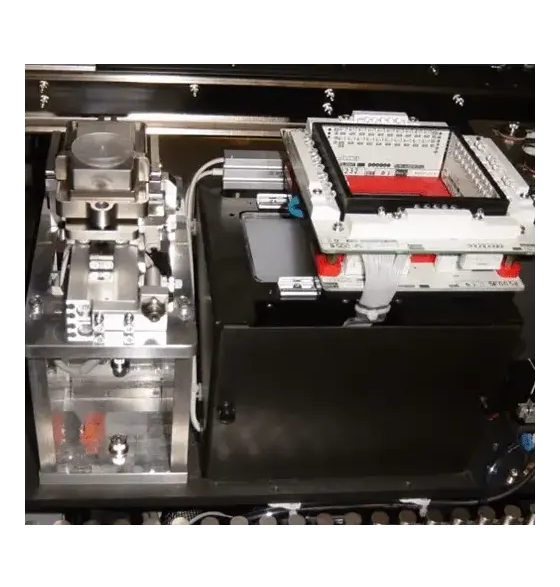 ---
Linear Fluxer
Flip chip placement / PoP applications
Used on the Juki KE2060 and KE2080 flexible placement machines!
The linear fluxer is a peripheral module that can be used for flip chip placement or PoP applications on the JUKI KE2060 and KE2080 flexible placement machines. The linear fluxer is fully automatic and generates a constant liquid media film of flux or adhesive. The fluxer can be installed at the factory or can be easily retrofitted in the field.
• Easy to change (no tool required) cavity plates

• Easier to set flux depth than rotary style fluxers (recommended depth is 2/3 of ball diameter)

• Covered reservoir to prevent drying out

• Easy to re-fill flux media, easy to clean

• Transparent cover to visually check the media level inside the reservoir

• Reservoir can be removed without tools for cleaning

• The reservoir is large enough to contain enough media for an entire shift of typical production
---
---
JUKI machines are ideally suited for PoP (Package on Package) applications. PoP is a placement method which allows a higher vertical placement density and makes a component construction kit possible. Memory components can, for example, be placed freely onto logic modules creating a more cost effective solution that allows memory size to be freely adapted to the market needs.
Components used in PoP applications are usually BGA or µBGA and, depending on the placement process, at least the upper component has to be fluxed at the solder bumps in order to secure it and to prepare it for the reflow process.
Part Flux, or Adhesive Stamp Processes
The most common type of adhesive used is conductive adhesive. It can be used to dip a part into the film or to stamp a tool into the film and then transfer the acquired media onto an object or substrate often referred to as "pin in paste" or "adhesive pin transfer".
Plates can have 2 different depths and/or sizes per plate, one cavity on each side of the plate
Cavity size max 30mm x 30mm
Constant film height due to linear movement during filling of the cavity ("doctor blade" style operation)
---
A JUKI product specialist will be in contact with you within 24-48 hours.