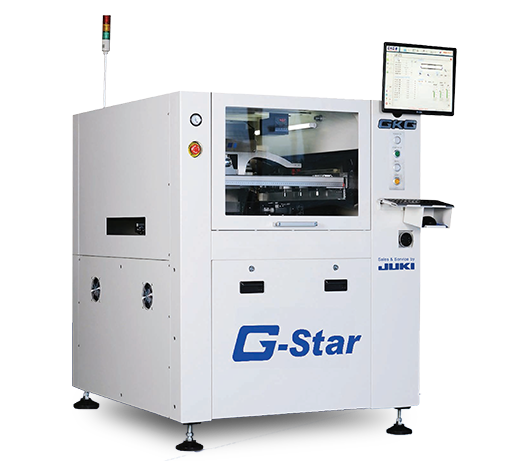 ---
G-Star
Fully Automatic Vision Screen Printer
Successfully attains 01005 miniature printing!
Handling M Size board, G-Star is adept at delivering all your business needs. It successfully attains 01005 miniature printing. Through full contact with the stencil, the improved cleaning system ensures that any remaining paste in the mesh will be eliminated before printing.
The 2D paste inspection function is able to detect insufficient paste, bridging and other defects. G-Star is also equipped with top and motorized side clamp, thereby ensuring superior printing quality.
• Product changeover time in less than 3 minutes
• Core cycle time (excluding printing and cleaning time) is less than 8.5 seconds
• Handles boards 50mm x 50mm min. to 400mm x 340mm max
• New product set up time in less than 10 minutes
 
---

---
A JUKI product specialist will be in contact with you within 24-48 hours.